Featured Item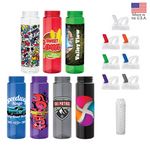 25 Oz. Pet Bottle With Flip Spout & Infu...
25 oz. PET sports water bottle with a fruit infuser, ounce/ml markings, an integrated carry handle and a flip spout. Made in the U.S.A. Choose from 8 colors of bottle bodies, 6 colors of flip spouts, ...
$7.11 - $8.06
Since 1988 Advertising Specialties Inc., and its manufacturing subsidiary, ASI Manufacturing Services Inc., have not only manufactured ASI products and unique corporate giveaways, but have provided solutions for distributors and resellers. With thousands of wholesale promotional products the ASI team's consultative approach means that we not only understand your internal programs and your corporate culture, but also your spend and how to achieve a higher rate of profitability for both you and your customers. The time tested manufacturing and distribution philosophies that we employ allow us to deliver quality, wholesale promotional products and ASI specialty products, on time. If you have questions regarding custom imprinted promotional products, company merchandise, or unique corporate giveaways, please e-mail us at asi@aspromoproducts.com or call us (877.ASI.6684). If we can't help you with your questions, we'll be happy to steer you in the right direction. Feel free to browse our website for custom imprinted promotional products and company merchandise. If you'd like more information about us and the asi products that we offer feel free to contact us. At ASI, our customers always come first.
Advertising Specialties, Inc. and ASI MFG Services of Boca Raton, Florida are not affiliated or connected with, or in any way endorsed by Advertising Specialty Institute, Inc. of Trevose, Pennsylvania.